Double block & bleed Vopak Terminal Westpoort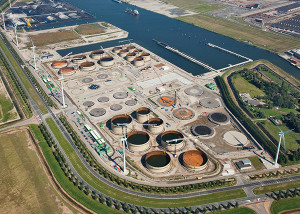 In order to meet the growing demand for storage, mixing and transfer of petrol and other light oil products, tanker storage company Royal Vopak N.V. has been having a new storage terminal built on the industrial site of Westpoort in Amsterdam since 2009. During construction, Vopak already decided that the desired storage capacity would be nearly doubled in the second construction phase. Econosto supplies an extensive range of valves for the new terminal through the main contractor BAM Leidingen & Industrie (Pipelines and Industry). "We chose Econosto because we needed a reliable and professional partner with an adequate grasp of logistics and sufficient storage capacity. This was necessary in order to have the hundreds of valves available at the right time and at the right locations," says project manager Peter Moerland from BAM.
World player
Royal Vopak N.V., the largest independent tank terminal in the world, specialises in the storage and transfer of liquid and gas chemical and oil products. The company operates 83 terminals in 31 countries with a total storage capacity of over 27 million m3. The customers of Vopak are mainly active in the chemical and oil industry. Within this market segment, and particularly in the oil product market, there appears to be a structural imbalance between supply and demand. Consequence: a growing flow of oil products. In addition, as a result of local legislation concerning more environmentally-friendly fuels in various and other factors, a further product diversification is taking place. As a result of this development, the demand for storage, transfer and mixing capacity is increasing. With the construction of the new terminal, Vopak is responding to the shortage in storage capacity in the Amsterdam-Rotterdam and Antwerp region, where the port of Amsterdam plays an important international role as a logistic hub for petrol-related product flows between Europe, the US and Asia.
Vopak Terminal Westpoort
The new Vopak Terminal Westpoort is located in the Afrikahaven and will have 41 storage tanks above ground and 6 smaller oblong tanks with piping systems. The 25 meter high storage tanks have a capacity of 10,000 m3, 20,000 m3 or 50,000 m3; this adds up to a total storage capacity of nearly 1.2 million m3 and a maximum throughput of 20 million m3. The terminal will mainly be used for the storage, mixing and transfer of transport and biofuels. For the purpose of loading and unloading the products, the terminal will have three berths for processing sea vessels with a capacity of up to 120,000 DWT and eight berths for processing coasters and inland barges with a capacity of up to 20,000 DWT.
Manual and electric valves
Obviously the pipeline systems on the terminal require the necessary valves. Econosto is providing all the valves for this project. This involves a total of nearly 2,400 manual valves, mainly in small sizes and not process-related, and nearly 900 electric valves, including safety systems. In order to meet the tight planning of the contractor, all materials are delivered just in time, according to the phased construction. Econosto will supply the automated valves in plug & play mode. This not only reduces the installation time, but guarantees a flawless functioning.
Extensive cooperation
Together with Vopak, Econosto has entered into a VMI contract where Econosto is responsible for the management of the spare part supplies for all current Vopak locations in the Netherlands. This also shows the confidence they have in Econosto. All in all, Econosto considers this project to be a convincing reference.